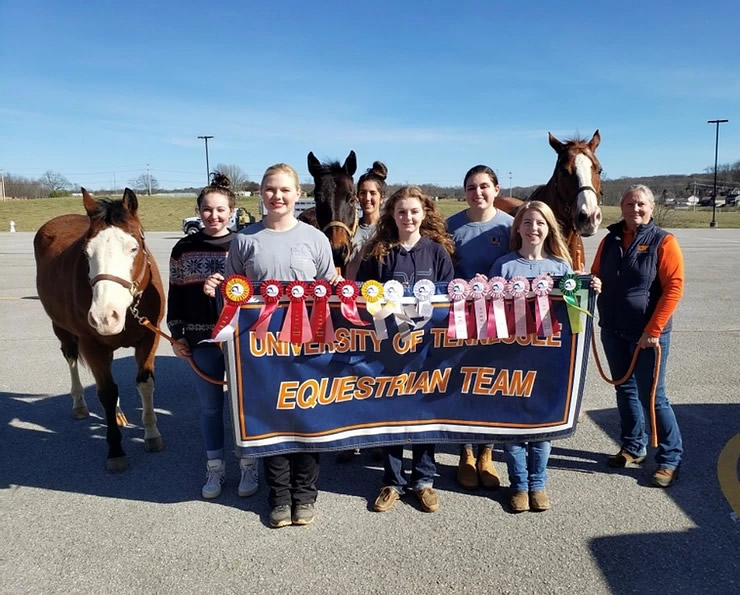 May 4, 2020
Like every other collegiate equestrian team in the nation, our 2019-2020 season was unfortunately cut short due to the COVID-19 pandemic. However, we do not want that to stop us from recognizing the riders who went above and beyond this season! Below are the results for our yearly superlatives that are voted on by our team members. Congratulations to all of our members who earned these well-deserved honors!
Freshman of the Year (tie): Lauren Boysen and Amber Hiscock
Sophomore of the Year: Anna Wermert
Junior of the Year: Abby McCalmon
Senior of the Year: Collette Zwinkel
Hunt Seat MVP: Amy Chandler
Western MVP: Anna Wermert
Sportsmanship Award: Ashley Haylett
Most Team Spirited: Catherine Thoms
UTET Comedian: Anna Silverblatt
Volunteer Spirit: Alex Hall
Best Stand-in Show Parent: Catherine Thoms
Hootin n' Hollerin Award: Carol Hodge
Best Hairdresser: Brianna Proulx-Walter
Horse of the Year: Birdy
We would also like to extend our congratulations to Amy Chandler and Anna Wermert who qualified for Hunt Seat Zone Finals and Western Semi-Finals (respectively), but were not able to compete due to the pandemic. Both of these riders qualified in the Open division of their respective seats, which is telling of how hard they both worked to qualify in this tough division.
Please take a look at our previous blog post to learn more about our seniors of this year. While the premature ending of the season has been difficult for all of us, it has been the most difficult for our seniors. We are beyond thankful for their involvement in our team, and we wish them all the best!